9 December 2019
How agricultural contracting can help maintain the productivity of your farm this winter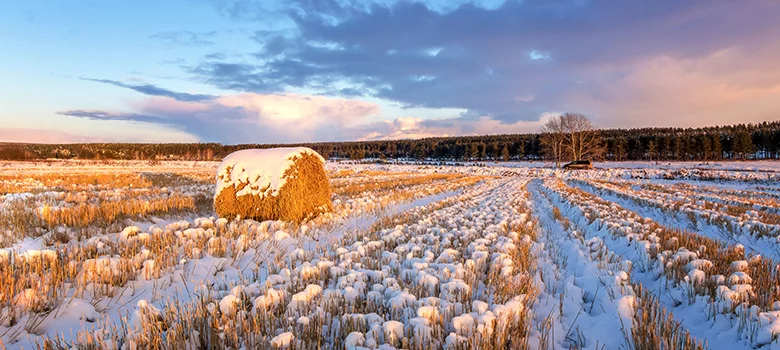 Winter can be a tough time of year for farmers; more extreme weather conditions and shorter days can make preparing for the year ahead hard work, and it may be that your farm could do with a helping hand to keep on top of productivity. This is where
agricultural contracting
could help. 
Through agricultural contracting services such as those provided by AWSM Farming, you can pick and choose the areas that you require assistance with to keep your farm running smoothly during winter. 
We offer agricultural contracting services that can benefit your farm all year round. Winter is a time to get your ducks in a row, so to speak, and it is likely that your farm could benefit from our services to: 
• Keep access to roads clear
• Secure your land and livestock
• Help manage day-to-day running of your farm
Keep access to roads clear
In the winter season, extreme weather can make it difficult for you to get around. This restricts your access to areas of farmland that you need to reach, and slow progress, which eventually takes its toll on the productivity of your farm. 
This can be especially true on more rural roads that see little use, and receive minimal maintenance. A service that you could use to avoid this is gritting and snow ploughing. 
Gritting and snow ploughing
By using an agricultural contracting service such as AWSM Farming to grit roads and paths around your farm, you can ensure safer roads for your machinery to navigate. This is an important time-saver, as without gritting it is possible that your farm could suffer from delays due to clearing snow and frost from roads yourself. 
Not to mention any time or money spent on machinery that has been damaged due to accidents on slippery roads! 
On large farms this is an essential service, where large machinery and vehicles need to be able to move around the farm quickly and easily. Ensuring that your property is gritted is also critical for councils and private hire for estates, in order to comply with health and safety. 
It may also be that you require snow ploughing as a part of your agricultural contracting. An essential service during the snowy winter months, removing snow in a timely manner is important not only for your ease of movement, but also for both for the safety of yourself and others.
Secure your land and livestock
Winter is a fantastic opportunity to check that your property, equipment and livestock are secure, which prevents you from having to deal with issues such as intruders, property damage and theft that may affect your farms productivity though the winter, whilst also ensuring that your farm is ready for the new year ahead. 
One way of doing this is through our fencing agricultural contracting services. 
Fencing
Replacing and repairing your fencing is especially important as winter welcomes increased rainfall, snow and frost that can damage and the individual components of your fencing.  
It is possible that extreme rainfall and other extreme weather can damage your fencing without your know-how during the winter season. High winds, fast-flowing water and loosened soil can displace and break your fencing which makes fencing maintenance a winter priority. 
By choosing to use an agricultural contracting service such as AWSM Farming you can pre-empt any issues that could arise from damaged and broken fencing. We we can check, fix and replace your fencing to ensure that your property and livestock are secure. 
For more information on why replacing your fencing this winter is important for your farm, take a look at our blog on the effect of flooding on fencing. 
Help manage day-to-day running of your farm
Managing your farm during the winter months can be especially challenging, as the effects of freezing, harsh weather on your land, livestock, and technological failures can add to the usual difficulties that farm management present. 
This can take a toll on the productivity of your farm, as the issues that the winter season throw at your farm stretch your resources thin. One way of reducing the strain of this is through our farming services. 
Farming services
Enlisting the help of agricultural contractors such as AWSM Farming can reduce the burdens of farming during the harshest season of the year with services such as livestock farming, farming workforce and technological support. 
With the help of our farming services, the strain on your time will be significantly reduced, allowing you the space to do important planning and maintenance for the year ahead whilst the day to day running of your farm is being taken care of. 
To summarise…
Winter can pose many problems to your farm and its productivity, whether through the weather, shortened days or damage to your property. 
By enlisting the help of an agricultural contractor such as AWSM farming you can relieve the pressure with extra hands on deck, keeping your farm running smoothly, and ensuring that your farm is in the best possible position for the next calendar year. 
Still don't believe us? Why not have a read of one of our previous blogs, 'How to prepare your farming services for 2020.'
Here at AWSM Farming, our teams of agricultural contractors can work alongside your existing workforce to support your farm during the winter season. To find out more, contact AWSM Farming today.