Slurry Pits & Lagoons
A cost-effective solution to efficient and sustainable slurry storage
Virtually unlimited storage capacity
Environmentally friendly & DEFRA compliant
Long-term, cost effective solution
Already know you need a slurry pit? Fill out the form and speak with us today.
Enquire With The Team Today

Managing farm waste at scale is a challenge the majority of farmers will come up against in their day to day. A slurry pit or slurry lagoon offers a virtually unlimited storage capacity alongside a host of financial and environmental benefits.
We specialise in bespoke slurry pit solutions, providing farmers across the country with specialist slurry pit and lagoon liners. Our geomembrane liners are scalable, and so suited to permanent, large-capacity slurry storage where a tank's capacity isn't enough.
Slurry Pits & Lagoons: What we offer
Greater storage capacity – Slurry pits offer a much larger storage capacity than traditional slurry stores. This means you can store more slurry for longer periods, reducing the need for frequent disposal or spreading.
Environmentally friendly – Using a slurry pit or lagoon ensures that your slurry is stored in a controlled and safe environment, reducing the risk of pollution and contamination of nearby water sources. This makes it an environmentally-friendly solution that meets regulations and can help to reduce your carbon footprint.
Lower costs – With more efficient storage and controlled application, the use of a slurry pit can significantly reduce your costs, including those associated with the disposal of excess slurry.
Construction & Installation – Whether it's our expert assembly team getting the full job done or you'd still like to install it with a little supervision, we're on-hand to help. We'll also advise on the application for building permits or environmental irregularities.
Enquire now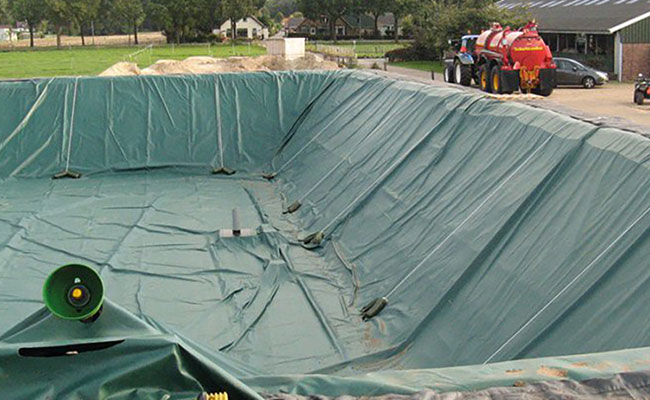 Slurry Pit Technical Specifications
Our pits and lagoons offer an inexpensive, large capacity storage solution with a short construction turnaround, they come with a 5-10 year warranty (depending on the circumstances), and they're made to fit your specifications. Here are the technical specs that you may need to know:
A bottom-seal constructed of 1 mm Fecatex PVC
The dyke's exterior can be covered with slope protection, so there is no longer a risk of overgrowth. Also, a 1.80m tall fence is a legal requirement, which we're able to supply and/or install if you wish, alongside the required pipe systems.
Kiwa/Komo-certified
The Benefits of Using a Geomembrane to Liner Your Slurry Pit
A geomembrane is a synthetic liner that can be used to line your slurry pit. By lining your pit with a geomembrane, you can provide a more durable and secure barrier between the slurry and the surrounding environment.
Improved durability – Geomembranes are highly resistant to punctures and tears, which means they are less likely to suffer damage and require replacement.
Reduced risk of leaks – A properly installed geomembrane will provide a secure barrier that will help to prevent any leaks or seepage of slurry into the surrounding soil or water sources.
Increased lifespan – Geomembranes are designed to withstand the elements and provide long-lasting protection, ensuring your slurry pit will remain in good condition for years to come.
More Info About Geomembrane Pit Liners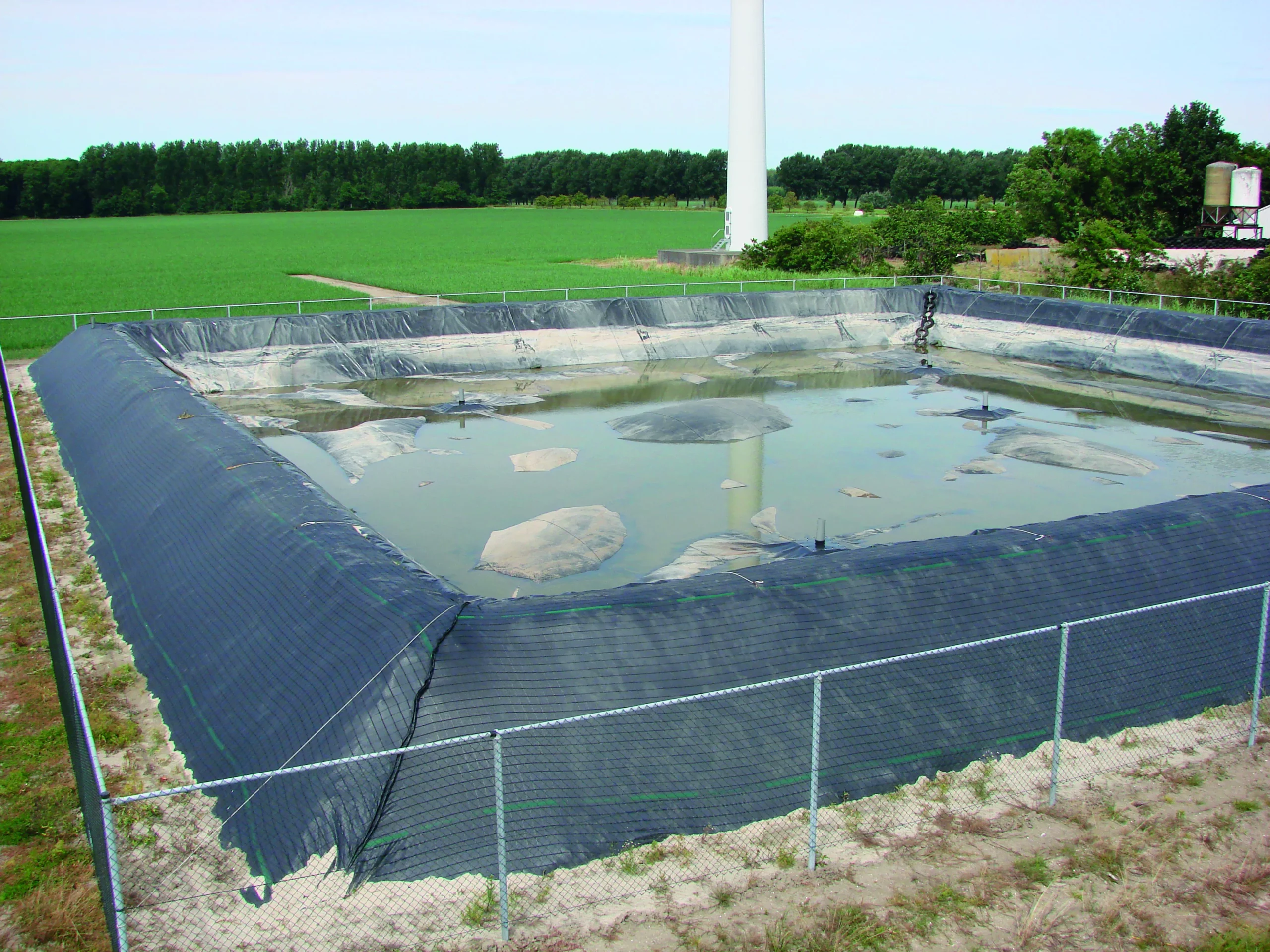 Farm Size in Acres and Hectares
Slurry pits are a versatile solution that can work for farms of any size, from small family farms to larger commercial operations. They are particularly useful for farms with limited land for spreading, as they allow you to store slurry for longer periods of time without the need for constant disposal.
Different Types of Farmers that Use Slurry Pits
Slurry pits are an ideal solution for any farmer who is looking to improve their slurry management processes. They can be used by dairy, beef, and sheep farmers, as well as arable farmers who have a high volume of waste. Additionally, they can benefit poultry farmers who are dealing with large quantities of chicken manure. Whether you're a small-scale farmer or a large commercial operation, a slurry pit can help you to manage your waste more effectively.
With greater storage capacity, environmental benefits, and cost savings, it's an investment that will pay off in the long run. Whether you're a small-scale family farm or a larger commercial operation, a slurry pit can help you to manage your waste more effectively, while meeting regulations and reducing your environmental impact.
Slurry Pit & Lagoon: FAQs
What is a slurry pit or slurry lagoon?
A slurry pit or lagoon is a large storage area used to hold animal waste and other organic materials, until it can be spread on fields as fertiliser.
How do I construct a slurry pit or lagoon for my farm?
On the surface, constructing a slurry pit or lagoon sounds like a relatively simple process, starting by excavating a large hole in the ground to the right dimensions. Following that, the space needs to be lined with a heavy-duty slurry pit liner to prevent leaks, spills and contamination. However, construction is no easy task, and it shouldn't be a DIY project. Building a reliable storage system takes an expert. Work with a professional who knows your specific requirements and understands your space, budget and resources. Their insight and skill will ensure your slurry pit or lagoon functions effectively and efficiently for years to come.
Do you need to clean a slurry lagoon?
Yes, a slurry lagoon needs to be cleaned periodically to remove buildup of solids and prevent the buildup of potentially harmful gases.
What are the UK regulations for slurry pits and lagoons?
The UK government has regulations in place to manage slurry storage and use, including requirements for construction, storage capacity, and spreading practices. These regulations aim to minimise environmental impacts and ensure the safe management of animal waste.
How can I prevent odours from a slurry pit?
Odours from a slurry pit can be reduced by ensuring that the pit is well-mixed and properly ventilated. Covering the pit or adding deodorising agents can also help to reduce odours.
What are the risks of working with slurry pits and lagoons?
The risks of working with slurry pits and lagoons include exposure to harmful gases, such as hydrogen sulfide and methane, as well as risks associated with operating heavy machinery around the lagoon. Proper safety precautions, such as wearing protective gear and avoiding working alone, can help to reduce these risks.
What are the benefits of using slurry pits and lagoons for slurry storage?
The main pull for slurry pits and lagoons is their virtually unlimited storage capacity – best for pastoral farms who tend to large numbers of livestock. Allowing you to store significant amounts of slurry in one centralised location, you'll enjoy the value of increased space on your fields, barn and farm. And not only do they save space, but they also help you do your bit for the environment. Preventing potential environmental damage from run-off, slurry pits and lagoons help farmers stay compliant with regulations and protect the planet. A win-win all round!
What is the average cost of building a slurry pit or lagoon?
This depends on a few factors, like the size of the slurry pit or lagoon and the materials used. Additionally, professional installation fees may vary depending on where you are and who you work with. Luckily, we're ready to work with you to find a solution that works with your budget. Investing in proper slurry storage, alongside a slurry pit liner, will also save you money in the long run – maximising the lifespan of your storage system and your slurry's nutrient value.