Slurry Store Covers
Increase your slurry's nutrient value with weather-resistant slurry store covers
Complete, all-round protection from the outside elements
Durable and robust, so you can make the most out of your money
DEFRA compliant – made to minimise your environmental impact
Already know which cover you need for your slurry tank? Fill out the form and speak with us today.
Enquire About Our Slurry Store Covers

Keeping your nutrients dry, secure and protected from the elements is essential. That way, you'll reap the benefits of increased crop production due to a better-quality natural fertiliser, alongside an increased return on investment as a result.
Slurry store covers help keep in nitrogen that would otherwise be lost to the environment, reduce the cost of rainwater and all in all maximise your storage capacity. As a result, you'll benefit from a valuable fertiliser that enhances your farm's production.
We offer floating covers and tensioned covers, both of which offer their own benefits depending on what you need. Unsure which choice is best for you? Explore our options below.
Floating Slurry Store Cover
Full protection to keep your slurry in the best condition
Simple, versatile and low-maintenance
Suitable for slurry tanks or lagoons
An inexpensive alternative to a tensioned cover
Enquire now
Tensioned Slurry Store Cover
Prevent rainwater getting in, stops nitrogen getting out
Bespoke manufacturing to your requirements
Only available for steel panel tanks
Tough & durable, to withstand the elements
Enquire Now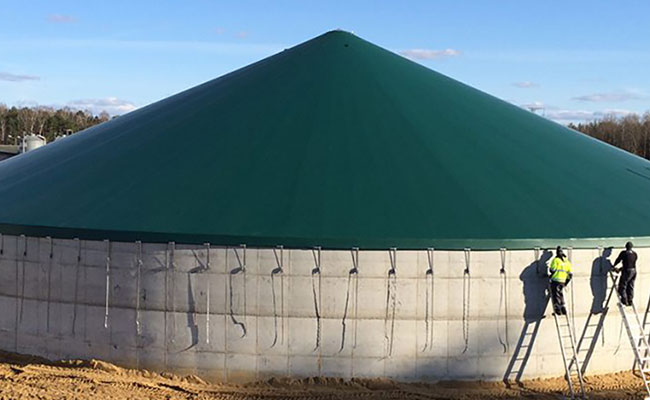 Slurry store covers: What we offer
Bespoke: Each one of our slurry store covers will be manufactured to your specific needs. For example, the number of mix hatches and number of size of manholes is completely customisable to your requirements. All in all, we're here to ensure your cover is 100% compatible with your slurry storage solution of choice.
Environmentally efficient: Keeping the rain out and preventing gases from escaping into the air, our slurry store covers are a necessity for maintaining your slurry's quality and minimising the impact of farming on our environment.
Installation: We'll be here from start to finish – from setting up your storage system right through to putting the cover on top – this is customised work. We're experts in installation, ensuring you receive a hassle-free, seamless service from the get-go.
Floating Cover Technical Specifications
Simplicity and practicality are our top priority. Preventing leaks and spills, and total protection from the elements, our floating covers can be used on all-round storage systems up to 35m. Paired with a 5-10 year warranty (depending on circumstances), these covers are the perfect alternative if your system isn't strong enough for a tensioned cover. Here are the technical specs that you may need to know:
Foil: Standard foil reinforced PVC foil 850 gram/m2
Floating cover pipe: Impact-resistant PVC pressure pipe 160mm
Optional manufacturing: Mix hatch, rotatable stainless steel, mixer through the wall, electric submersible mixer
Kiwa/Koma-certified
Enquire Today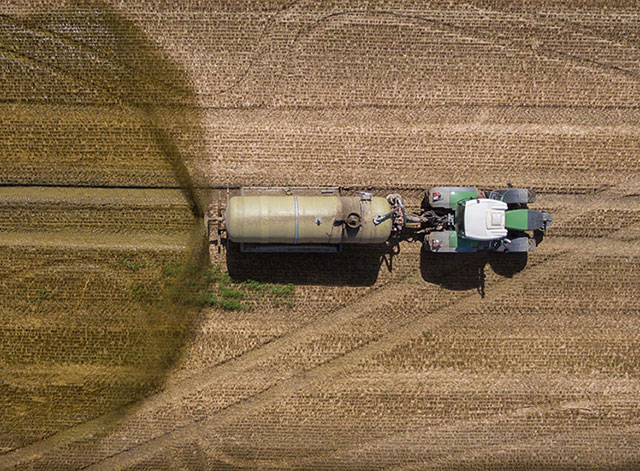 Tensioned Cover Technical Specifications
Held up with tensioners from the side of the tank, this is a farmer's first-choice if their pre-existing infrastructure is rigid, secure and permanent. Available in multiple colours and different foil qualities, our tensioned covers have a 5-10 year warranty, depending on your circumstances. Here are the technical specs that you may need to know:
Foil: Reinforced PVC 850 gram/m² or 1100 gram/m² UV resistant.
Standard angle of inclination: 17°, possibly different if required.
Centre column: Hardwood, stainless steel 316 or concrete
Base plate: Steel interior – stainless steel 304
Top plate: Steel interior – stainless steel 316
Spanners: Steel exterior – stainless steel 304
Enquire Today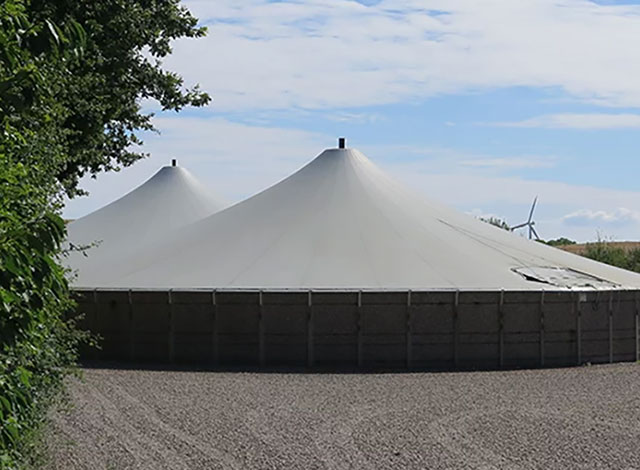 Choosing a slurry store cover for you farm
There are multiple factors to take into account when choosing your slurry cover – the size of your farm, your pre-existing storage systems (or the slurry store you're considering), land availability and much, much more. For instance, it's important to assess the structural integrity of your slurry store, and whether it will be able to withstand a tensioned cover, or whether a floating cover would be better suited.
All in all, a slurry cover is an absolute necessity for all farmers, whether you're dealing with cattle, sheep, pigs or even chickens. Covering your slurry will ensure the nutrients remain in prime condition for increased crop production. Or, if you're a dairy farmer, helping you grow the best-quality grass to feed your livestock.
Slurry Store Cover FAQs
Why use a slurry store cover?
Using a slurry store cover can help to prevent the release of harmful gases, reduce odours, and protect slurry from contamination.
What are the advantages of using slurry store covers?
An essential part of maximising your farm's operations and slurry's performance, slurry store covers are a game changer, ensuring you have greater control over the conditions in which your slurry is stored. One of the most significant benefits of using slurry store covers is their ability to reduce the risk of nutrient loss, particularly nitrogen. Slurry store covers help reduce volatilisation by limiting exposure to air and heat, keeping everything contained and controlled. Alongside maximising your storage capacity and helping to keep your farm clean and tidy – the investment is a no-brainer.
How do slurry store covers work?
Slurry store covers work by creating a physical barrier over the surface of the stored liquid, preventing the release of harmful gases and reducing odours. They can also help to prevent contamination and maintain a consistent temperature within the slurrry tank or lagoon.
What materials are commonly used for slurry store covers?
First up, slurry store covers come in different forms, such as tensioned and floating, each offering unique benefits for different applications. Similarly, they come in many different materials, each designed for specific purposes. Some of the commonly used materials for slurry store covers include polyethylene, polypropylene, PVC, and other synthetic materials. The choice of material will depend on the specific needs of the farmer. However, high-quality, heavy-duty, reinforced, industrial-grade fabrics are absolutely integral. These materials are durable and designed to withstand harsh weather conditions, physical stress, and UV radiation. Tried, tested and trusted, our slurry store covers are made of a heavy-duty impermeable geomembrane – ensuring nothing can get in or out.
How long do slurry store covers last?
The lifespan of a slurry store cover will depend on factors such as the type of cover, the materials used, and the conditions in which it is used. With proper maintenance, slurry store covers can last for many years.
Do slurry store covers help in reducing odour emissions?
Absolutely! By keeping everything locked in under a slurry store cover, you're doing your bit for the planet (and the locals!), trapping in unpleasant odours and harmful gases – say goodbye to those nasty smells that'd cause upset with the neighbours. This ensures a cleaner, healthier environment on the farm, preventing harm to animals and people nearby.