Recycling
Let us take the hassle out of your day-to-day with our nationwide, efficient farm recycling services.
Specialising in recycling all kinds of waste materials and by-products, alongside hiring out skips, we're here to help you do right by our planet. After all, we know how important it is to cultivate a cleaner, greener future.

Recycling Services
We specialise in the recycling of waste and by-products to land and the supply of feedstocks to the Anaerobic Digestate Industry. We also collect and recycle waste plastic, cardboard and tyres etc. And we have can supply skips of various sizes.
More about our services…
Over the last 12 years we have been strengthening links with the local utility networks, allied industries and private manufacturing companies which produce organic material based bi-products. Our aim is to analyse the beneficial value of these products and develop routes for reuse wherever possible within the agricultural and horticultural industries. The process is complicated, establishing the benefits of the reuse and gaining the suitable licensing approval from relevant agencies but the end result is an economical alternative to artificial, chemical based fertilisers.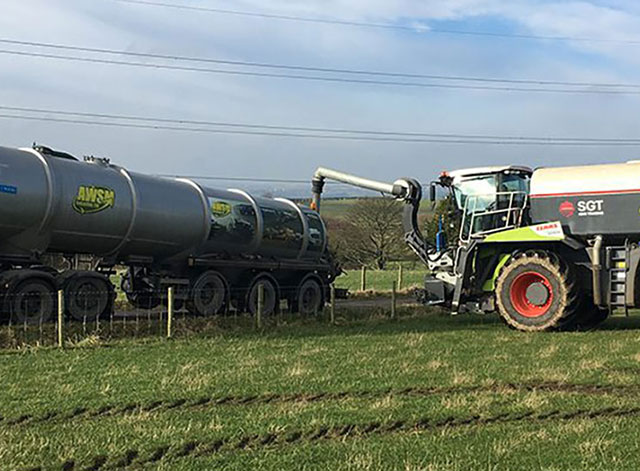 Recycling Services include:
Supply and spread of Organic Manures
Supply and spread of Compost
Digestate haulage and application
By-Product Recycling
Bio solids spread to land
Tyre Recycling
Farm waste plastics recycling
Stefos slurry store sales and installations
Our contacting business has the full range of equipment to deal with all of the waste streams above whether it be wagons for haulage that are required or specialist machines to apply products to land we have it covered.
As our recycling services have grown within the company we now have two fully FACTS Qualified Advisors, a full time Environmental Manager has been appointed to ensure our compliance and records are up to date. We have recently been accredited to level 3 of British Standard BS 8555/IEMA Acorn Scheme for our Environmental Management Systems, an officially recognised EMS standard recommended by the government, offers accredited recognition for organisations evaluating and improving their environmental performance through the phased implementation of an environmental management system (EMS).
AWSM Recycling Ltd also holds a registered waste carriers licence.
We are an appointed contractor for Solway Recycling covering an area from North of York to Morpeth. The system we offer is the Bin and Liner system. This is the best system as it allows a cost effective, simple and tidy system to have farm plastics recycled.
The idea of this system is you only pay for what we take away. There are no annual or registration fees; we charge per filled liner we collect from you. Each liner is capable of holding 200-250 silage wraps or 100-125 empty 600Kg fertiliser bags.
Each Farmer will be given a free, NFWS Waste Policy, which includes a Recycling Certificate, a section for storing Waste Transfer Notes (Waste Transfer Notes are issued each time a Controlled Waste is uplifted). Also, at the end of each year farms will be given an Annual Statement, which details all of the holdings waste movements for that period.
We handle the recycling of tyres turning the waste into rubber chip which is then reused for a variety of uses. Recently we have won a contract to recycle over 1200tons of tyres.