Slurry Tanks
Robust silage storage solutions – tailored to your farm and operational scale
Long-term or temporary slurry tank, we'll find the most cost-effective solution
Quick construction and installation turnaround
Eco-conscious and DEFRA-compliant
Already know which slurry tank you need? Fill out the form and speak with us today.
Enquire About Our Slurry Tanks

Each one of our slurry stores is the perfect solution for farmers who require a robust, durable slurry store. We provide a range of solutions, whether it be our steel mesh slurry tank for a versatile, temporary slurry storage, or a sturdy steel panel slurry tank for something more permanent and robust.
Made with care and consideration for you, your operations and the environment, both our slurry tanks are an innovative, effective solution for easy storage – whether you're storing cow, sheep or pig slurry.
Steel Mesh Slurry Tank
Quick, simple planning process – no prior permission needed!
Prepare the site in just 1 day with no concrete foundation necessary
Construction can be completed in just 2 days!
Easy to dismantle and move around if needed
Enquire now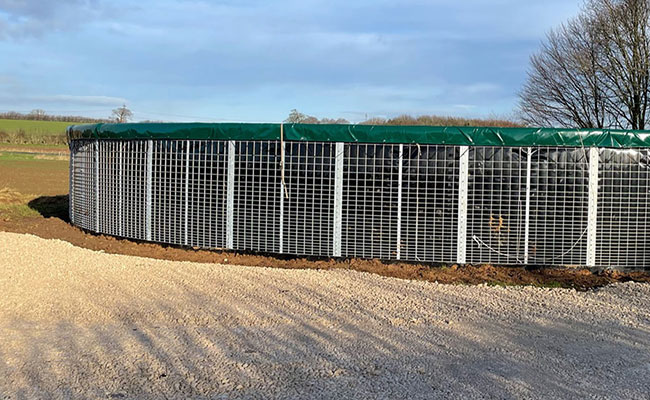 Steel Panel Slurry Tank
Built to last using high-quality materials
No concrete floor foundation required
Easy to install with a short construction period
Flexible to move around if required
Enquire Now
Slurry tanks: What we offer
Reliable: Each tank is specially designed with your farm in mind – robust, durable and able to withstand the harshest conditions to keep your slurry protected.
Cost-effective: We understand that farming can be tough, and every penny counts. That's why we've designed slurry tanks that are both affordable and flexible, while never sacrificing on quality.
Eco-conscious: While maximising your slurry store's full potential is the priority, we understand that it's important to do it with the planet in mind, too. Whether it's our mesh slurry tank or our steel panel slurry tank, both keep everything in a controlled environment, without any risk of contamination or pollution.
Quick turnaround: When it comes to farming, no two days are the same. And that means speed and efficiency are paramount. Installing our mesh slurry tanks can be done in the matter of days, with our steel panel slurry tanks not far too behind. We'll sort out the legalities, construction and installation if you wish – all in a bid to ensure a seamless, hassle-free process.
Steel Mesh Slurry Tank Technical Specifications
Quick and versatile, our steel mesh slurry tanks are born for simplicity. Planning permission can be granted in 28 days with a prior notification application, and it can take as little as one day to prepare the site – no concrete or stone needed! Our systems have a 5-10 year warranty (depending on the situation), and will be tailored to suit your needs.
Here are the technical specs you may need to know:
Volume varying from 192m3 to 1,246m3 – with 3m height as standard.
Galvanised exterior and an interior with 1 1/2 mm thick HDPE protective foil
Emptied via the discharge/filling point with a 250mm pipe, the connection is 6" or 8"
Can be made with the following mix options: Mix hatch, rotatable stainless steel nozzle, mixer through the wall, electric submersible mixer
Kiwa/Komo-certified
Enquire Today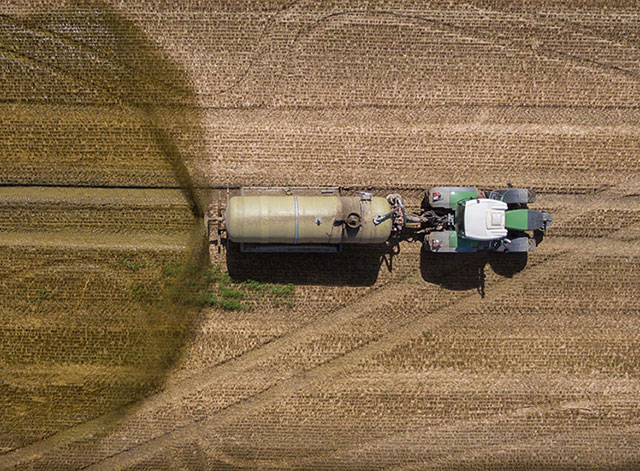 Steel Panel Slurry Tank Technical Specifications
Reliable and robust, our steel circular slurry stores are perfect for keeping everything protected. Suitable for use on a surface with less carrying capacity, we're here to help with the application of building permits and/or environmental irregularities – no need to worry about the complex stuff!
Here are the technical specs you may need to know:
Variable height and diameter depending on your needs, and variable volume from 124m3 to 2,486m3
Corrugated steel panels and a double layer protective system
Emptied via the discharge/filling point with a 250mm pipe, the connection is 6" or 8"
Kiwa/Komo-certified
Enquire Today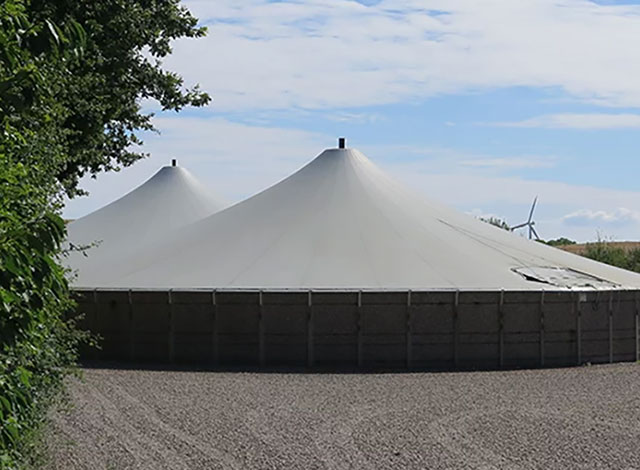 Your Ultimate Guide To Slurry Tanks
Ready to master the world of slurry tanks? Click below to immerse yourself in our comprehensive guide, where you'll uncover everything from slurry tank basics to design, different types of tank and real-world insights.
Whether you're unsure which type of tank you need or you're not quite sure of a tank's benefits, we're on hand to reveal all.
Your farm's efficiency is just a click away – click the button to get started!
Read Our Guide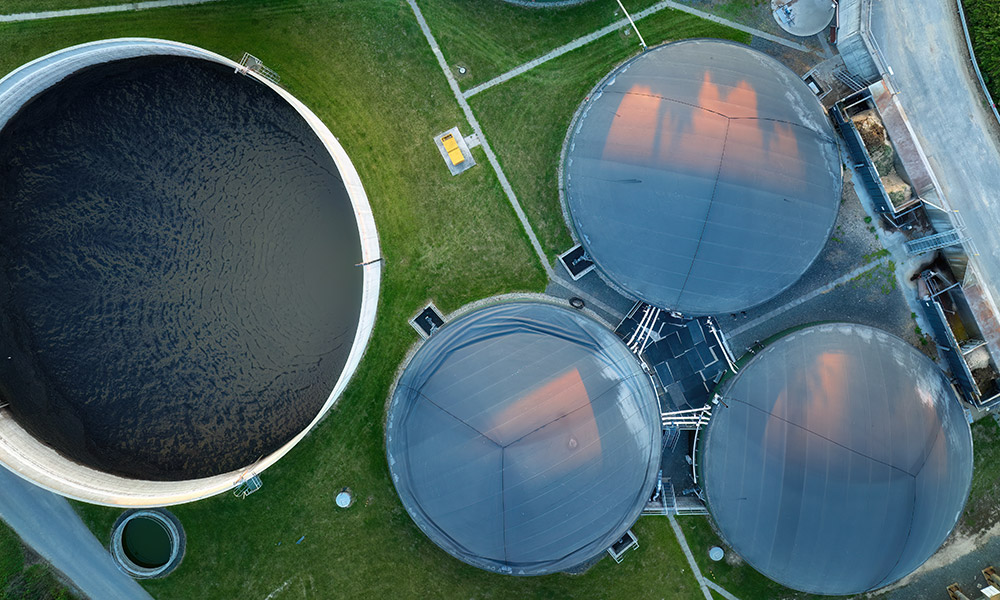 Which Slurry Tank is Best For You?
It can be tricky to know which storage solution is best for you – but we're here to get it right. Both suited to smaller amounts of waste, the slurry tank you choose all depends on your situation. The steel panel is a weightier, permanent solution that requires planning permission, whereas the steel mesh silo is a speedy, versatile option that can be installed under permitted development*.
Both are suitable for all types of farmers, whether you operate on a smaller scale or at a mass, commercial level. But if you're unsure, we're here to help.
Slurry tank covers
In addition to your silage tank, you'll need something to cover it. Our steel mesh tanks are compatible with a floating cover, an affordable yet durable solution to keeping the weather out of your slurry mix.
Whereas the steel panel tank has enough rigidity to hold a tensioned cover, which is a harder wearing cover for a more permanent solution. Our covers are optional extras to the tanks we offer – make sure to find out more on the slurry covers page.
Slurry Tank FAQs
What is a slurry tank?
A slurry tank is a container used to store liquid manure or other organic waste materials. They are typically made of durable materials, such as steel, concrete or plastic, and can vary in size depending on the needs of the user.
How does a slurry tank work?
Slurry tanks work by holding animal waste mixed with water, slurry, until it can be spread on fields as fertiliser. They may also have mixers or agitators to mix the contents of the tank and prevent the buildup of harmful gases, as well as tank covers to stop the slurry from being diluted.
What are the advantages of using slurry tanks for slurry storage?
Where do we begin? Other than maximising your storage capacity, a top-of-the-line slurry tank helps to manage your slurry more efficiently and make the most out of your slurry's nutrient value – protecting what's inside from the elements. With a slurry tank, you have greater control over your slurry, all while doing right by the planet, too. Keeping everything controlled within the appropriate slurry storage offers exceptional environmental and public health benefits – helping to prevent pollution, contamination from harmful runoff and unpleasant smells.
How do you maintain a slurry tank?
Slurry tanks should be regularly inspected and cleaned to prevent buildup of solids and the formation of harmful gases. Proper ventilation and mixing can also help to reduce odours and prevent the formation of harmful gases.
How do I determine the capacity or size of a slurry tank I need?
Determining the capacity or size of a slurry tank you need can be a bit tricky. But fear not, our team of experts will take all the guesswork out of it for you. Factors such as the amount of slurry produced each day, your space, budget and the maze of rules and regulations to comply with must be accounted for. Just give us a call, and we'll help you determine the size of the tank you need based on your farm's size and needs. Once we determine the optimal capacity of slurry tank you need, we'll offer a customised solution that meets the needs of your business.
What types of slurry tanks are available and which one is best suited for my farm?
Here at AWSM, we offer bespoke slurry tanks solutions, tailored to your meet your specific needs. From mesh slurry tanks, an adaptable, cost-effective solution, to steel panel tanks, which provide greater strength, durability and protection from the unpredictable British weather, we'll work with you to get it right. Mesh slurry tanks are easy to assemble and disassemble, potentially better suited to smaller farms, whereas steel panel tanks are a sturdy, permanent solution.