Slurry Pit Mixer
Keep your slurry evenly distributed with high-quality slurry mixers
Efficient performance to save time, money and energy
Low-maintenance for years of trouble-free service
Unparalleled capacity compared to the rest of the market
Already know you need a mixer for your slurry store? Fill out the form and speak with us today.
Ask Us About Our Slurry Mixers

Developed especially for pits & lagoons with a floating cover, our mixers are the perfect solution to get the most out of your slurry. Equipped with a strong propeller to ensure optimum efficiency and efficacy, this is your first choice for your farm's lagoon mixer.
Ensuring your slurry is evenly mixed is extremely important, the only way to prevent solids from settling and creating blockages. As a result, you'll benefit from a cleaner, more efficient lagoon to reduce the risks of slurry spills and contamination. Good for your farm, good for the planet.
Slurry Mixer Benefits
A slurry mixer is designed to agitate the slurry in the lagoon, mixing the solids and liquids together to create a homogenous mixture. This makes it easier to spread the slurry evenly on fields, and also helps to break down the solids into a more usable form. Mixing the slurry evenly reduces odours and prevents the buildup of potentially harmful gases, like methane and hydrogen sulfide.
Enables even and efficient spreading of slurry on fields as fertiliser
Virtually maintenance-free operation
Adjustable mixer tunnel for a variety of slurry pit sizes
Reduces odors and prevents buildup of harmful gases in the lagoon
Enquire now
Slurry Pit Mixer: What we offer
Craftsmanship: Designed for low maintenance with long-lasting components – galvanised steel, a sturdy propeller and more – don't worry about frequent repairs or replacements. With AWSM Farming, we promise the best of the best.
Cost-effective: Our slurry lagoon mixers are an investment in your farm's future. An even mix leads to improved fertiliser application, which leads to higher crop yields, lower costs and an increased return on investment. A win-win!
Minimal power consumption: Effective and efficient, our slurry mixers are made with maximum performance in mind. With a low power requirement and quick mixing time, this not only saves your pennies, but helps reduce consumption for the planet, too.
Installation: Whether you need this installed into a new or existing lagoon, the mixer will be attached to two concrete slabs, with the fan head attached to a heavy concrete slab at the bottom of the lagoon. Then, the drive side is secured to a smaller slab on the dyke's pinnacle. But don't worry – we've got it covered. For more information on the delivery and installation of your slurry tank mixer, head below.
Lagoon Mixer Technical Specifications
Our range is versatile. That way, we can ensure we've got a slurry mixer suitable for the size of your tank and the quantity of slurry your animals produce. Take a look at our full selection of lagoon mixers below:
Type 6: Length of frame is 6m
Type 9: Length of frame is 9m
Type 11: Length of frame is 11m
Sporting galvanised metal work for long-term lifespan, a conical outflow and a reinforced thrusting motion inside the mixer tunnel, our lagoon mixers are built to last.
Enquire Today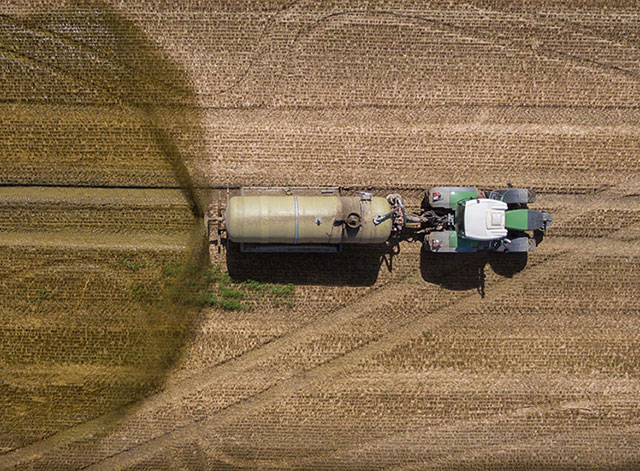 Here are the technical specs that you may need to know:
Bearings: Maintenance-free ball bearings.
Sealing: Seal lip with stainless steel spring and stainless steel socket.
Capacity: +/- 3350 m³/hour at 540 revolutions per minute.
Required capacity: 57kW/ 70PK for normal manure and 58kW/ 80PK for thick manure.
Fan 3-bladed, 560 mm
Adjustable outflow direction
Kiwa/Komo-certified
How Will a Lagoon Mixer Benefit My Farm?
Whether you're a small, family-run farm or a large commercial operation, all farmers will reap the rewards of a specialist, high-quality lagoon mixer.
For instance, pig slurry will sink without being mixed, whereas cow slurry will float to the top. Without a lagoon mixer to prevent this, your unevenly dispersed slurry will cause major problems later down the road: an ineffective fertiliser.
Whatever animals you're dealing with, a lagoon mixer is the best way to ensure an even spread and make the most of your crop production.
Find Out How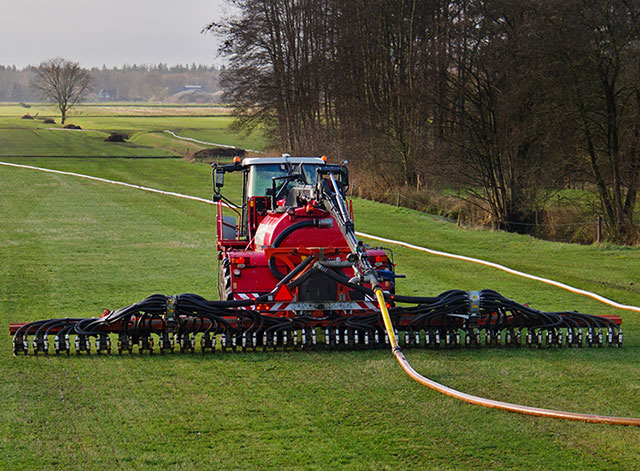 Which Slurry Tank is Best For You?
It can be tricky to know which storage solution is best for you – but we're here to get it right. Both suited to smaller amounts of waste, the slurry tank you choose all depends on your situation. The steel panel is a weightier, permanent solution that requires planning permission, whereas the steel mesh silo is a speedy, versatile option that can be installed under permitted development*.
Both are suitable for all types of farmers, whether you operate on a smaller scale or at a mass, commercial level. But if you're unsure, we're here to help.
Slurry tank covers
In addition to your silage tank, you'll need something to cover it. Our steel mesh tanks are compatible with a floating cover, an affordable yet durable solution to keeping the weather out of your slurry mix.
Whereas the steel panel tank has enough rigidity to hold a tensioned cover, which is a harder wearing cover for a more permanent solution. Our covers are optional extras to the tanks we offer – make sure to find out more on the slurry covers page.
Common Slurry Store Questions
What is a slurry lagoon mixer?
A slurry lagoon mixer is a machine used to agitate the contents of a slurry lagoon, creating a homogenous mixture of animal waste and other organic materials.
How does a slurry lagoon mixer work?
A slurry lagoon mixer typically uses a mechanical agitator to stir the contents of the lagoon, breaking up solids and mixing them with liquids to create a more uniform mixture.
What are the benefits of using a slurry lagoon mixer?
Using a slurry lagoon mixer can help to create a more consistent slurry mixture, making it easier and more efficient to spread as fertilizer. It can also help to break down solids, reduce odors, and prevent the buildup of harmful gases in the lagoon.
What are the different types of slurry mixers and their respective benefits?
Slurry mixers come in all shapes and sizes – after all, you need the right size slurry mixer to fit your tank! Here at AWSM, we've got 3 types of mixer, each one efficient, effective and built to last. Each of our lagoon mixers will promise a more consistent mixture to improve crop quality, alongside helping to reduce nasty odours and prevent gas buildup.
Why should I consider using slurry mixers for my slurry store?
Slurry mixers are an excellent investment for any farm or agricultural business. A crucial part of taking operations to the next level, they make slurry management stress-free and more efficient, providing sustainable, consistent and uniform nutrient distribution within your fields. By mixing the slurry, you prevent build-up and break up any solids to ensure an evenly distributed spread – the perfect recipe for reaping the best yield from your crops. Additionally, consistent slurry mixing helps to prevent crust and solids forming at the top of the slurry tank or lagoon, reducing the chances of a lethal buildup of dangerous gases that could escape into the surrounding environment.
How do slurry mixers help in improving slurry consistency and nutrient distribution?
Properly mixing your slurry is an essential part of an effective farming process. Different types of slurry can separate and settle depending on their composition and characteristics, leading to inconsistent nutrient distribution if not mixed effectively. A lagoon mixer's mechanical action helps to break down clumps and solids, allowing for your slurry to distribute its valuable nutrients throughout the soil, leading to a higher crop yield.