14 November 2019
Fencing for farming: why you need to repair your fencing fast after flooding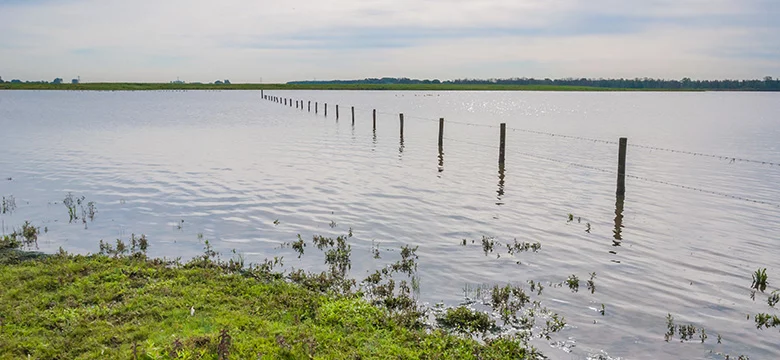 Floods have ravaged the UK this November, inflicting damage on countless homes, roads, and – of course – on farmland in areas across the nation, such as in
South Yorkshire
, where flooding has been particularly debilitating. 
As you look towards taking measures to get your farm back on track, and fix the damage caused by the excess rain, be sure to look at securing your fencing for farming as loose soil and fast-flowing water may have caused significant damage to your fences through either rot, breakage or displacement. 
Why exactly should I take immediate measures to repair my fencing for farming? 
Fencing for farming is not merely an organisational feature that separates land and establishes boundaries. It is also a key aspect of your farm that serves many purposes in keeping your farm running smoothly.
For one, damaged fences can pose a risk to your livestock. It is possible that your livestock will injure themselves on broken fencing, which will lead to incurring costs on rescuing and recovery of the animal in question. 
Fences also keep your livestock from escaping, which may put them in danger or at risk of trampling crops and farmland, which will cost you precious time and money in finding and herding them back onto your farmland and repairing any damage inflicted. 
Broken fencing for farming may also put livestock at risk of theft by making access to your land and animals easier for opportunists. 
If specialist pest-preventative fencing, such as rabbit fencing, is damaged, this could leave your harvest vulnerable to pests and vermin that could set you back. 
Beyond this, there are fencing laws that must be adhered to, for example, private land that borders on common land is required to be secured to stop livestock from entering onto common land and equally, common livestock entering private land. In order to remain within the law, it is imperative that you take every measure to repair damaged fencing. 
So, how can AWSM Farming help? 
Here at AWSM, we offer several types of fencing for farming that you may need to replace after heavy flooding, including:
Rabbit Fencing
This is a cruelty-free method of keeping rabbits from destroying crops and preventing similar pests from entering your land. This type of fencing is deeply embedded in the ground to stop pests from being able to burrow through to your crops. 
Wire Fencing 
Wire fencing is a useful method for establishing borders and for holding animals, such as horses, that are unsuited to more aggressive fencing like barbed wire fencing. We also provide barbed wire fencing, which is useful for deterring people and animals from entering your land, and your own animals from escaping. 
Synthetic Fencing 
This form of fencing for farming is effective and durable being 100% man made, and poses less of a risk to your livestock in terms of inflicting injury.  It's durability also means it may survive extreme weather in the future. 
Wood Fencing
Wooden fencing provides a natural and durable fencing alternative, which is perfect for fields with horses and animals that have a tendency to push against fencing in an attempt to escape.
Here at AWSM, we can offer you a time-saving farm fencing installation service, alongside the option to rent our high capacity post knocker. 
There is also the opportunity to take advantage of our fencing materials and installation, as a part of our agricultural contracting services, which may be a great asset in restoring your farmland after heavy flooding. 
To find out more about how our fencing materials and installation services can help to repair your fencing for farming after heavy flooding, contact AWSM Farming today.