3 July 2023
Slurry Storage: 2023 Guide For Farmers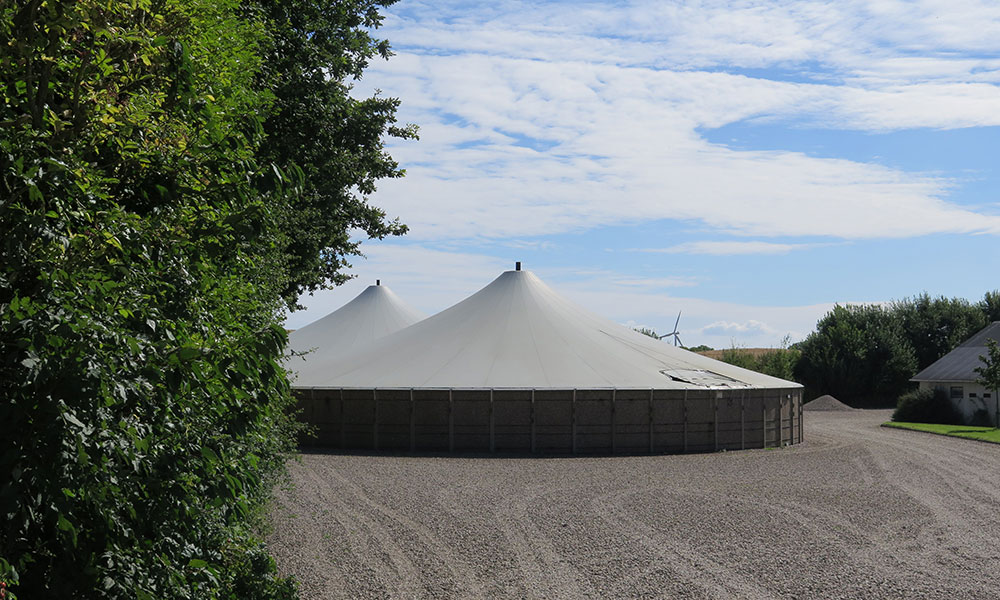 Though slurry storage may not be the most glamorous topic, it's certainly an important one.
However, knowing where to start can be daunting. It's not just a case of choosing a storage solution and that's that – there's a multitude of factors to consider. Luckily for you, we're here to help you navigate the minefield and ensure your farm comes out on top.
So, here's your go-to guide on everything slurry storage – from choosing the right system and understanding the regulatory slurry storage requirements, all the way to repairs, maintenance and maximising your nutrient value. Ready to enhance your operations? Keep reading!
In this article
Choosing the right slurry storage system
First things first, let's talk slurry. Slurry is a concoction made up of animal waste and water, rich in key nutrients like nitrogen and phosphorus. Though not the most pleasant recipe, it's definitely a valuable one for producing a prosperous, high-quality yield. But the question remains: where do you store it?
The benefits of investing in proper storage are too long to list. But we can certainly try.
Effective slurry storage is crucial for nutrient management, allowing farmers to properly store, and spread this treasured resource on their crops. And the benefits don't stop there. Good slurry storage also reduces the risk of nutrient pollution and environmental damage caused by slurry runoff – it's a win-win.
There to keep your farm's operations running seamlessly, maximise the nutrient value of your slurry, and help to reduce your environmental impact – investing in the right storage is a no-brainer.
Understanding farming slurry storage options
So, where do you start?
Well, there's a whole load of slurry storage systems available – slurry tanks, lagoons, and pits each come with their own advantages and disadvantages. When selecting the best system for your farm, it's important to consider factors such as the size of your farm, the number of animals you have, and the type of farming practice you engage in.
What is the best type of slurry storage system for my farm?
This is the million-pound question, because the best type of slurry storage system really depends on your unique needs and resources. Are you dealing with limited space? Or do you have more room to play with? How much slurry are you producing? These are the questions you'll need to answer before you can make the final decision, but options include tanks (steel panel or mesh), lagoons, and pits, which will be fitted with covers.
You can use the Agriculture and Horticulture Development Board (AHDB) slurry wizard to give you an estimate for how much slurry storage you'll need, and thereby which storage system is the best for your farm. Or, give us a call and our team can give you the ins, outs and a load of expert advice – we'd love to hear from you!
Anyway, here's a quick rundown of the different types of storage:
Slurry pits and lagoons
The main pull for a slurry pit or slurry lagoon is their virtually unlimited storage capacity. As such, you can store more slurry for a much longer period of time, making it a cost-effective and environmentally-friendly option – perfect for when a slurry tank's capacity is not enough.
For pastoral farms that tend to all kinds of livestock, slurry pits and lagoons may be the most appropriate option. They allow for the efficient storage of large volumes of slurry, whether you're a dairy, sheep or even a poultry farmer. Either way, it doesn't matter if you're a smaller family farm or a full-blown commercial scale operation, a slurry pit will be a versatile solution for many.
Slurry tanks
On the other hand, for arable farms, a slurry tank system may be more suitable, as it allows for the efficient application of slurry to crops.
Whether you're after a long-term solution or a temporary one, slurry tanks are robust and durable. We offer both mesh slurry tanks, which are adaptable and easy-to-install, as well as steel panel slurry tanks, a sturdy, robust and more permanent solution. Protective slurry store covers – floating or tensioned – will be necessary to protect your slurry from whatever the British weather has to offer, but more on that later…
Finally, for mixed farms dealing with both livestock and crop production, a combination of both lagoon and tank systems may be necessary to meet your specific needs. As we say, understanding your farm, your output and your specific requirements is absolutely paramount to maximising your slurry's value.
Ensuring compliance with regulations and permits
Now, onto the not-so fun side: regulations and permits.
As a farmer, you need to understand your legal responsibilities. The UK government, or more specifically the Department for Environment, Food and Rural Affairs (DEFRA), has strict requirements in place to ensure that slurry is managed in an environmentally sustainable way.
So, before you even think about installing a slurry storage system, it's important to check you've got everything in place. Perhaps most importantly, there's a number of slurry storage requirements to follow when it comes to choosing the right location for your store. For example, to prevent aquatic pollution, slurry stores must not be within 10 metres of inland freshwaters or coastal waters, or within 50 metres of any spring, well or borehole.
Similarly, it's essential to prevent pollution from runoff, leaching, leaks or flooring, so it's important to check all the details beforehand – such as farm records, mapping and flood risk.
These regulations include the need for regular inspections and maintenance, as well as the requirement for slurry storage systems to have sufficient capacity to store slurry for at least six months. The current rules state that any new systems must be designed to be long-lasting, with the intention of not needing repairs for at least 20 years.
What are the regulations and permits for slurry storage?
DEFRA has a long list of regulations in place when it comes to storage. Mostly, these include not installing a store within close proximity of fresh or coastal waters, as well as ensuring you don't put your tank or pit on land that's at risk of flooding. It's important to fully scope out your surroundings, and check all the important documentation. Though it might feel like a headache, these slurry storage best practices are there to protect the environment, community and your farm.
To meet environmental sustainability requirements, it's important to ensure that your slurry storage system is properly designed and maintained. This includes regular inspections and maintenance, as well as the use of appropriate slurry pit liners and covers to prevent contamination and leakage.
That way, you can do what's right by your crops, your animals, the community and of course, our planet.
Enhancing slurry storage efficiency and environmental sustainability
Utilising slurry pit liners
Slurry pit liners are a must-have for any farm – the ultimate solution for preventing contamination and leakage. Spills can pollute the environment and cause serious damage, so keeping everything contained is essential for good slurry condition.
Geomembrane liners made from high-density polyethylene (HDPE) will provide a strong, watertight barrier against moisture, liquids, and chemical substances that could leak out of your slurry store and penetrate the environment.
By choosing the appropriate liner material, you can ensure optimal performance and maximum protection for your slurry. HDPE liners are a popular choice due to their strength and durability, but don't worry – our team can help you choose the best material for your specific needs.
It's no good just getting the best slurry pit liner either. You need to keep it in optimum condition, too. To keep your slurry lining looking and feeling its best, regular maintenance and inspection is key. As a farmer, it's important to frequently check for signs of debris build-up and bits of damage from day-to-day operations.
What are the benefits of using slurry pit liners?
Slurry pit liners are incredibly useful, helping prevent contamination of soil and groundwater by providing a barrier between the slurry and surrounding environment. Plus, they can extend the lifespan of your slurry.
How can I prevent slurry contamination and environmental risks?
Preventing contamination is easier than you might think. Investing in slurry pit liners help to prevent leaks and spills, as well as ensuring your storage system is in a safe and secure location, well away from water sources.
Exploring slurry tank covers and store covers
Want to maximise your crop production, control odours and reduce your farm's impact on the environment? Investing in a slurry tank cover could be just the answer.
Covering slurry tanks may not sound like the most exciting thing in the world, but trust us – it's important! Covering your slurry storage is crucial for keeping everything dry and offering complete protection from what the elements have to offer. Similarly, keeping everything covered helps to prevent nitrogen loss and consequently, reduce the impact your farm has on the planet. In today's day and age, environmental sustainability is key – especially in the farming industry.
But what slurry tank cover is right for you? Well, this depends on a variety of factors, and there are two main types of covers to choose from: floating and tensioned. Let's break them both down:
What are the options for covering slurry tanks and their advantages?
Two popular choices are tensioned covers and floating covers, each offering their own advantages. Tensioned covers are typically made of heavy-duty materials and are stretched taut over the tank. They provide excellent protection against the elements, but only steel panel slurry tanks can withstand a tensioned cover. Floating covers, on the other hand, are simple and versatile – made of a more affordable, flexible material. The advantages of covering your slurry tanks are numerous – you'll reduce odours, prevent evaporation, protect your slurry and reduce your environmental impact.
Floating covers
Floating covers offer practicality and simplicity, an easy-going and low maintenance choice. A great option if you've already got a mesh slurry tank or lagoon in place – or if that's the storage system you're planning on installing – because floating covers can maximise your storage space dramatically.
Plus, they won't break the bank – floating covers are an inexpensive alternative to tensioned covers. So, if your storage allows, a floating cover will do everything you need and more to keep your slurry dry and stop gases from escaping.
Tensioned covers
However, for those that are either considering or already have a steel panel slurry tank in place, a tensioned cover is what you'll need. Steel panel tanks have the structural integrity to withstand a tensioned cover, which will provide all-round, long-lasting protection.
With the unpredictability of the British weather, a tensioned cover will provide robust and durable protection against all conditions, ensuring you can dramatically increase the efficiency of your storage space.
The full package with AWSM
Alongside our exceptional storage systems, we also offer tensioned and floating slurry tank covers to ensure you've got the full package. Bespoke to your storage system (because we know how important it is to get the perfect fit!), as well as being totally customisable to your requirements - whether you need more mix hatches or more manholes - we've got you covered. Literally. Looking to transform your storage capacity?
Let's get started.
Farm management & slurry storage operations
Frequency of slurry emptying and spreading
Now you know how to properly store your slurry, it's time to learn about operations and management. When you should empty and spread your slurry depends on various factors. But one thing's for certain – you need to know what you're doing.
Technically classed as hazardous waste, slurry can produce poisonous gases, so emptying your slurry pit or tank needs to be done expertly and efficiently.
We're experienced in emptying tanks and pits, following the Silage, Slurry and Agricultural Fuel Oil Regulations (SSAFO) – which are regulatory guidelines governing how farmers should store livestock slurry.
Slurry spreading ensures your soil and pasture is nutrient-rich, providing your livestock with a healthy, natural grass – incredibly important for dairy farmers who need their cattle to graze on the best quality pasture. Slurry can be applied to your land in various different ways, from spreading to injecting.
For arable farms, slurry should be spread at least once a year, whereas pastoral farms will benefit from spreading at least twice a year.
The rules and regulations are plentiful, and knowing the optimal time of year to start slurry spreading comes with knowledge and experience. When it comes to spreading, there are allocated 'closed' periods where spreading slurry is strictly prohibited, to reduce the release of nitrates. Generally speaking, the closed period ranges from mid-October right the way through to January.
In addition, your conditions need to be correct, and there are a few basic rules to live by. So, don't spread when:
You're expecting heavy rain

The ground is waterlogged or snow-covered

The ground is at risk of flooding

Your land is steep and sloping
Whenever you apply slurry to your land, it's important to incorporate the material into the soil within 24 hours, or ideally, within just a few hours to minimise odour.
How often should I empty and spread slurry from storage tanks?
Generally, it's recommended to spread slurry at least once a year to maximise its value as a fertiliser, but the frequency depends on a few factors, such as the size of the tank, how many hectares of land you operate within and more.
Grants and financial assistance for slurry storage
Storage can be pricey, that's no secret. However, we've got some good news! You may be eligible for a grant that can help you upgrade your storage capacity at a discounted price.
The Slurry Infrastructure Grant, provided by the government, is in place to help farmers nationwide replace, build, or expand existing slurry stores. Available to those who produce slurry and raise pigs, beef or dairy cattle, the grant is a game-changer for farmers across the UK.
As it stands, the funding is in high demand. Recently scaling up funding from £13.2 million to a whopping £33.9 million, the grant covers all kinds of slurry stores, including tanks, lagoons and concrete stores. It must be noted however that your grant-funded store must come with an impermeable cover, whether it be a floating or tensioned option.
Odour management and nuisance minimisation
Let's face it – farming is dirty work, but that doesn't mean we can't do our part to minimise our impact on the community and environment. Because if you don't address an odour problem, you could face legal action and a hefty fine.
The good news is that minimising odour from slurry and manure is easier than you might think:
Remove slurry regularly and clean affected areas to prevent slurry buildup
Avoid spreading in the same location too frequently
Go easy on distribution – heavy applications can lead to higher odour levels
Plough your slurry immediately after application to minimise the smell
Consider slurry injection, an effective method for minimising bad smells
Proper ventilation and mixing help reduce odours and prevent the formation of harmful gases
A few simple steps can go a long way, and ensure you do your part to protect your environment and the community.
Maintenance and nutrient management practices
Key maintenance practices for slurry storage systems
Simply put, maintenance of your slurry storage includes checking for leaks, cracks and other signs of wear and tear. It's also important to keep your system clean and free from debris, as this can impact its efficiency.
But maintenance isn't just about fixing what's broken – it's also about planning for the future. Long-term planning for repairs, upgrades and replacements is essential to ensure that your slurry storage system continues to meet your needs and perform at its best.
What are the key maintenance practices for slurry storage systems?
It's simple – stay on top of it. Regularly inspect your facilities for leaks, damage or cracks, essentially anything that could compromise the integrity of your storage system. You'll also want to make sure you're regularly cleaning your slurry storage facilities to prevent any buildup or blockages. And, of course, make sure you're following all regulations and permits for slurry storage and disposal.
Improving nutrient management and value of slurry
Running a farm is all about harnessing and unleashing the full potential of your operations and resources. As such, it's important to ensure you make the most out of your slurry. By optimising your nutrient management practices, you can maximise the value of your slurry and reduce the need for synthetic fertilisers. Sounds perfect, right?
One strategy for improving your slurry's efficacy is to take into account the nutrient needs of your crops and adjust the amount of slurry you apply accordingly. Alongside this, you can also test your slurry to assess its nutrient levels, ensuring you can use your natural fertiliser in the appropriate measures.
Similarly, how you apply your slurry to the land is an important consideration to ensure it performs well as a fertiliser. Before you even think about spreading, it's important to ensure your slurry is well mixed. A slurry pit mixer is an important investment, allowing for both the solids and liquids within the mixture to combine properly and promise an evenly distributed spread. And now we move onto spreading; to fertilise your land, slurry can be spread via a muck spreader or injection – both of which work to evenly distribute the slurry. This allows farmers to properly regulate the soil quality and gain the highest yield possible from the harvest.
Additionally, as mentioned, it's important to make sure your slurry store is doing the work to protect your slurry, keep everything in its place, and minimise loss. Investing in a slurry store cover, alongside a slurry pit liner is your best way of maximising the quality, amount and nutrient value of your slurry.
But wait, there's more! Did you know that you can even use slurry to produce biogas? That's right, by converting slurry into biogas, you can generate renewable energy for your farm. Now that's a way to make the most out of your money, and do your bit for the planet, too!
How can I improve nutrient management and maximise the value of slurry?
It's simple. Keep your slurry well-protected and in place with a cover and slurry pit liner, and make sure to test your slurry's nutrient levels and the quality of your crop production. Additionally, consider professional slurry spreading or injecting, both of which will evenly distribute your slurry to get the most out of your yield.
And that's a wrap!
Clearly, there's a lot to consider when it comes to choosing the right farming slurry storage, from tanks and lagoons all the way to slurry store covers and beyond. Without all of this in place, you run the risk of wasting space, ruining your slurry's nutrient value and at the end of it all – losing money. As such, it's important to get things right.
Not sure where to begin? Let us help. With years of experience in the industry, and first-class slurry storage options, equipment and installation services, we're all about transforming farming operations nationwide. Get in touch today!