19 May 2020
How can fertiliser spreading benefit your farming services?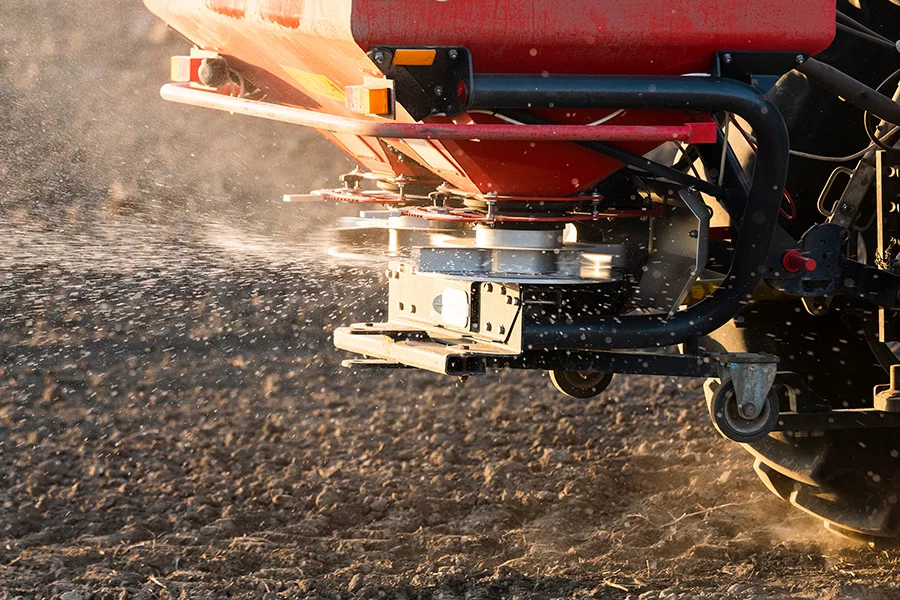 When it comes to the development of healthy crops, fertiliser is essential for guaranteeing successful yields. 
When used correctly, fertiliser can help reintroduce chemicals and essential nutrients lost as a result of previous years.
Here at AWSM Farming, we offer a range of fertiliser spreading and machinery hire services, to help support your farming services, all year round. 
Why do crops need fertilising?
It's simple: healthy soil is essential if you want to produce nutritious crops.
While traditional fertilisers are often made up of manure or compost, modern chemical fertiliser is developed to include either nitrogen, phosphorus, or potassium – all of which is critical to the development of healthy crops. 
Through soil sampling, it's possible to determine the nutrient content of your land – and avoid costly run-offs of products that can be harmful to local areas and wildlife. This is crucial, in order to determine how much product is required before fertiliser spreading can begin. 
By testing the soil, it's possible for farmers and landowners to accurately determine the level of nutrients currently present in their land. From this, it becomes easier to discover which nutrients the soil is lacking in, and how much fertiliser is needed to rectify these issues. 
At AWSM, we can carry out full soil sampling, using our bespoke, quad bike GPS. We offer our clients the option of 'W' sample patterns, or more specific GPS samples of every hectare. This allows us to create variable rate application maps to suit the needs of your land. 
How can lime spreading benefit your land?
As the name suggests, lime spreading consists of the application of naturally occurring, quarried lime. At AWSM, we offer lime spreading in conjunction with our fertiliser spreading services.
As an agricultural service, lime spreading is incredibly useful, and can yield excellent results for your land. Not only can it help improve the production potential of both grassland and arable land, but it can also help neutralise acidic soils. 
Lime should always be sourced and checked before spreading to ensure that it is of the correct neutralisation value. Without this, you won't see the improved results mentioned above. When carried out correctly, lime spreading can benefit the soil by:
• Increasing the pH of acidic soils
• Increasing magnesium and calcium levels in the soil
• Improving water penetration within more acidic soils.
AWSM's
fertiliser spreading
services
Here at AWSM Farming, we apply fertiliser using a KRM Bogballe Spreader, which includes weight cells.
Through the use of our KRM spreader, we can offer an accurate fertiliser spreading service, as the spreader continuously weighs the product as it is applied to the field. This ensures that the product is evenly distributed on your land, to improve (or enhance) its natural fertility.
We can also supply and provide fertiliser and lime products, to be used with our Agrispread lime spreader. Not only does this spreader offer variable weight capabilities, but it is also compatible with a variety of application maps. 
To summarise…
When used and applied correctly, lime and fertiliser spreading is incredibly beneficial for both your land and farming services.
When you consider the benefits – improved crop development and healthier, more nutritious yields to name a couple, we believe investing in an agricultural contracting service like spreading is a no-brainer, if you want to improve the ROI of your farming services.
For more information on how AWSM Farming can support your farming services,
contact us today
.