10 December 2020
Digestate spreading in 2021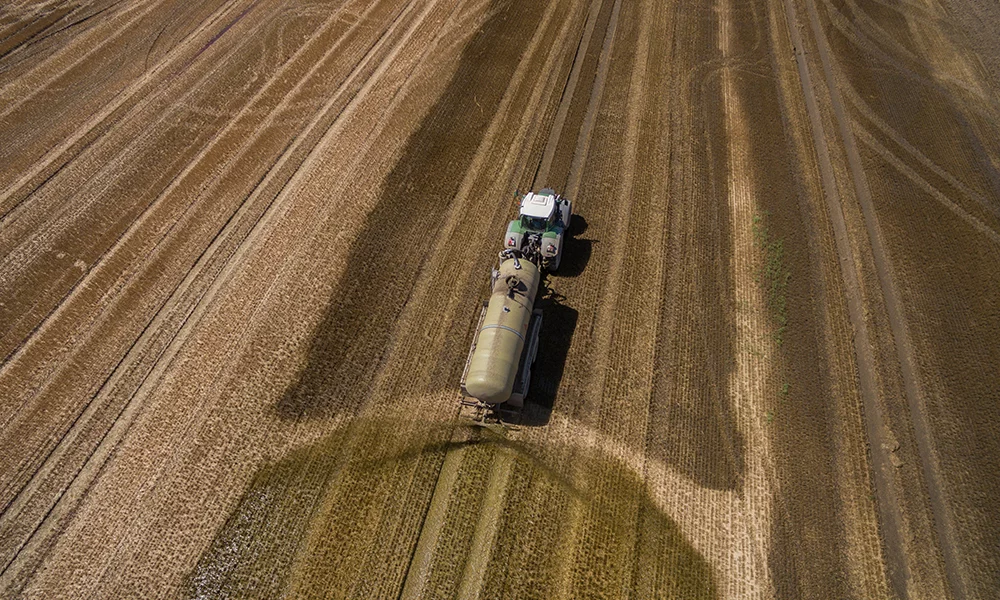 Are you considering utilising digestate solutions on your land in 2021?
As we head towards the New Year, digestate is still recognised as an ever-popular alternative to artificial fertilisers. And, as the popularity of the product has grown, so too have the regulations surrounding the usage of the product.
So, if you're planning on implementing digestate solutions in 2021, here's what you need to know:
Spreading for success in 2021
When compared to bagged fertiliser, using anaerobic digestate to feed arable crops could save farmers up to £110/ha.
With so many farmers now favouring digestate spreading over other spreading methods (like slurry), it's no surprise that the benefits of the product are so highly praised. When used correctly, digestate can play a crucial part in restoring soil health, encouraging worm activity (thus helping to repair local ecosystems), and also allow farms to gain more grazing days.
Using digestate correctly on your land
As we've already mentioned, the regulations surrounding the use of digestate on land have tightened in recent years. When misused (or on the "wrong" type of land), digestate can harm the local ecosystem.
For example, you should avoid applying the products during periods of bad weather. During these periods, there's an increased risk of run-off, which can inadvertently lead to the product polluting nearby water sources, or wildlife habitats.
Digestate spreading is also inadvisable when:
• Your land is waterlogged or frozen
• Heavy rainfall is forecast within 48 hours
• It's snowing heavily
• The soil is cracked (down the field drains)
• The field has been pipe (or mole) drained
• The field has been sub-soiled over drains within twelve months
Over 55% of the land in England is in a Nitrate Vulnerable Zone (NVZ). These zones are designated as being at risk from agricultural nitrate pollution. If your land is in an NVZ, then you must ensure you are applying digestate in-line with the current Cross Compliance Guide. During these allotted times, digestate products cannot be used on land. The 2020 NVZ Closed Periods is as follows:
| | | | |
| --- | --- | --- | --- |
| Start Date | End Date | Land Use | Soil Type |
| 1st August | 31st December | Tillage Land | Shallow/Sandy |
| 1st September | 31st December | Grassland | Shallow/Sandy |
| 16th September | 31st December | Tillage Land* | Shallow/Sandy |
| 1st October | 31st January | Tillage Land | All Other Soils |
| 15th October | 31st January | Grassland | All Other Soils |
*For Tillage Land with crops sown on or before 15th September
Why should you choose AWSM Farming for digestate spreading?
Here at AWSM Farming, we understand what goes into responsible digestate spreading.
We can offer our clients a highly effective and professional fertiliser system that's tailored to best suit the needs of your land, while also being financially viable.
Working alongside our agricultural contracting teams, we can work to ensure you don't miss vital spreading days on your land. And, with the ongoing situation, we will also work in-line with the latest Government restrictions and regulations.
Utilise digestate spreading responsibly in 2021:
When it comes to utilising digestate solutions on your land, it is the responsibility of you (the farmer) to use the product correctly on your ground.
Failing to carry out the relevant checks on your land could land your farming business in serious trouble. Plus, accidental pollution caused by the incorrect application of digestate could result in you incurring a hefty fine of up to £20,000.
Nevertheless, opting to use digestate correctly on your land ensures that your fields are subjected to an excellent organic fertiliser, which can increase crop yields and secure a better ROI.
Join the "growing" number of landowners choosing to swap bagged fertiliser for digestate in 2021. Here at AWSM Farming, we can assist with your digestate spreading and storage solutions. Get in touch to find out more.