13 May 2019
Keeping it cool: How can you protect your crops from extreme weather this summer?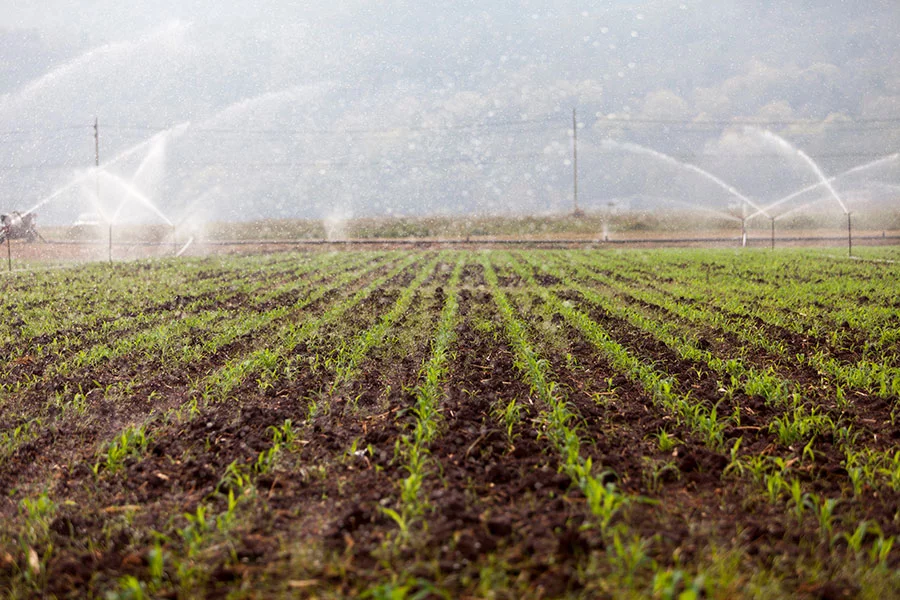 The summer of 2018 went down in the history books as a scorcher. Crops were
'parched to the bone'
, and many farmers experienced
significant falls in vegetable yields
as a direct result of the wet spring and dry summer.
By nature, agriculture is dependent on the climate. Farmers and landowners need to be equipped and ready to deal with any of the side effects caused by severe weather conditions, and be wary of how to adapt, in order to cope with the impact of our changing climate.
Unfortunately, the summer of 2018 wasn't an anomaly. This year's weather is expected to follow a similar pattern to what was seen in 2018. Prolonged periods of dry weather can bring about harvests sooner (while increasing the likelihood of crops suffering from heat stress, and other weather-related ailments). Should this happen, you may need additional farming services, which can be provided in the form of extra help from teams of agricultural contractors.
So, if the temperatures soar, are your crops ready? And what can you do to protect your yields come harvesting?
Agricultural contractors can boost productivity and protect crops
When the temperatures soar, avoiding heat stress in plants is paramount. Most vegetables need warm and dry weather in order to grow to their full potential – but they can also get too much sun, and need to be protected before they succumb to the heat.
When it comes to sheltering plants from the heat, our teams of agricultural contractors can help erect shade tunnels, or spread mulch to help preserve the water in the soil. These rudimentary measures can stop plants from running out of water, and, hopefully, prevent them from failing during the hotter days.
It goes without saying that a prolonged period of hot, dry weather and the drought that follows can severely impair the growth of various grains and pulses, which can lead to a reduced yield come harvest. When it comes to harvesting (from July onwards), you want to gather as many viable crops as possible – which is where a team of agricultural contractors can come in useful.
AWSM's teams of agricultural contractors are qualified to operate heavy machinery, which can be beneficial when it comes to covering vast swathes of land in as short a time as possible. Plus, with our agricultural machine hire services, extra machinery can be yours when you need it, without the additional cost of a new machine.
Utilise technology to monitor crop production
As we've mentioned before, developments in modern technology have revolutionised farming in recent years. Even though AI monitoring and agricultural robots may be years away from being seen on the average British farm, some advances can be beneficial to any farmer or landowner.
During a heatwave, drones can provide farmers with the opportunity to improve their crop management – through soil analysis and increased monitoring – without having to exhaust resources on-foot. Drones can cover vast expanses of land with ease – and they don't get sunstroke!
Agricultural drones vary in size and capabilities – but most of them are designed to withstand temperatures of up to 40°C. Although, it is always worth checking the exact specifications listed in the manufacturer's documents, to avoid mechanical failure during use. Monitoring can take place either indoors or in a shaded area – meaning that you can reduce your exposure to the sun during hotter days.
Adapt farming services for a changing climate
No matter how much we try and deny it, climate change is a real prospect that will continue to disrupt agricultural practices for many years.
Even though some of the changes brought about by climate change may be seen as positives for farmers – such as a longer growing season – several negative impacts are being witnessed every year, like unexpected frosts and prolonged droughts.
When it comes to farming in an unpredictable world, it's worth considering the crops that are being grown on land, the timing of farming operations, and the implications of managing the use of water – to ensure that you're best prepared for a warmer future.
To summarise…
If the mercury rockets this summer, you and your land need to be prepared. The preservation of water is vital – whether that be through the construction of shade tunnels or the spreading of dry mulch to lock moisture into the soil. Some crops can cope to an extent with periods of extreme heat – but it isn't worth the stress (for both you and the crops) to leave them to their own devices.
At AWSM Farming, we offer a range of farming services and technology that can help farmers and landowners alike deal with unpredictable weather. For more information, or to enquire about our agricultural contracting services,
contact AWSM Farming today
.